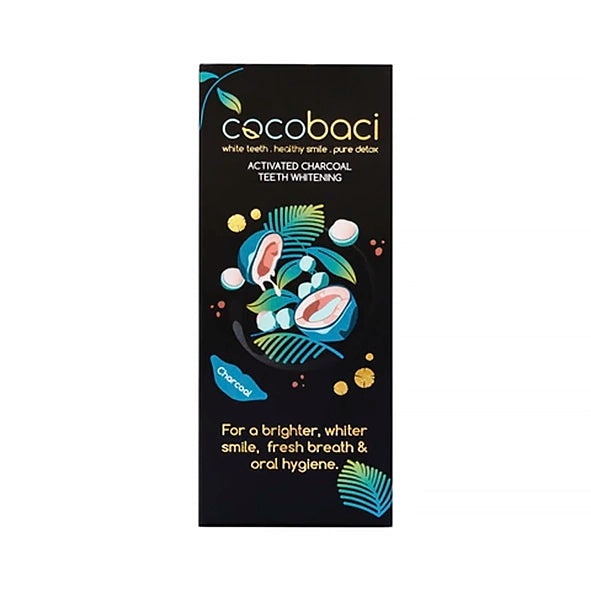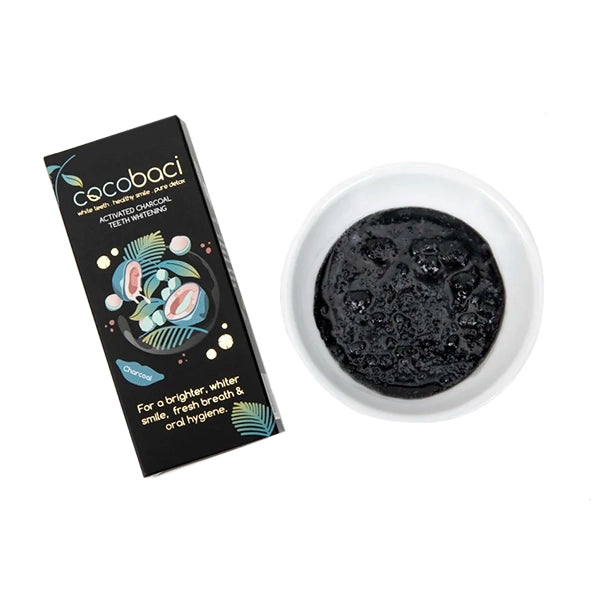 Cocobaci Black with Activated Charcoal
There are +5 units left in stock!
FREE delivery on orders over R400, shipping for orders under R400 will be charged at R50 per shipment. Orders are delivered between 1-5 business days.
Give your body a wellness boost with the new Cocobaci Black. The addition of Activated Macadamia nut charcoal is an excellent ingredient to support your body's detox process and leave your body and your squeaky clean!
Boost your wow factor with Cocobaci Black and start practicing your celebrity smile!
It's a fact. Looking radiant is as easy as having a beautiful smile, and you sure won't have a problem showing off your pearly whites when you realise just how good you have just been to your body, by getting your mouthful of great tasting Cocobaci Black!
Cocobaci Black combines the wisdom of Oil Pulling, Virgin Coconut Oil and Gemmotherapy, Activated Macadamia Charcoal and organic Peppermint and Spearmint Essential Oil.  You'll soon enjoy brighter teeth and help to improve your health with each swirl you take.
BENEFITS OF COCOBACI ACTIVATED CHARCOAL:
Assists with oral hygiene naturally
Minimises Bacteria and plaque
Brighter, whiter smile within days!
Can help to lessen the effects of hangovers
Can help to prevent and relieve headaches
Supports the body's natural ability to detoxify.
JUST HOW EASY IS IT TO USE COCOBACI? WELL, YOU JUST NEED A FEW MINUTES..
Open the sachet
Squeeze the oil into your mouth
Swirl it around for 10- 15 minutes
Spit it out!
Follow the programme for at the least 15 consecutive days
Admire a whiter smile and feel great that you have done your bit towards great health!
Size: 3 x 8ml Sachets
Deluxe Shop offers FREE delivery on orders over R400, shipping for orders under R400 will be charged at R50 per shipment. Once an order is dispatched it may take between 1-5 working days for delivery. Orders are not always dispatched on the day of ordering. We will always aim for the quickest time possible - depending on the time of your order and the area you live in, some delays may occur. Some increased charges may occur for rural areas or on Game Farms, Mines, Farms etc. Peak periods such as Black Friday and Christmas may result in some delays.
No shipping costs apply to treatments/vouchers purchased.

Delivery Methods
In general orders are despatched on the day after they are received, however at busy times this may not be possible. Please therefore allow up to one week for delivery. Orders sent by courier need to be signed-for on delivery.

Claims for damage, packing errors or non-delivery of goods must be received by DeluxeShop within 14 days of placing your order. In the event that no such claim is received within the specified time period, the sale will be considered final and the goods deemed to be received in good working condition and as ordered.

Peak Periods
During very busy periods, like Black Friday and December holidays, alternate delivery times should be taken into consideration for all delivery options. We will keep you posted on the actual delivery time.

Returns Policy - Satisfaction Guaranteed!
Deluxe Shop trusts that you are satisfied with your purchases. We only stock brands that we know provide the greatest results and get raving reviews.

However, if for any reason you are not satisfied with your purchase, please contact sales@deluxeshop.co.za within 7 days with a detailed description of the query, including a photograph and the batch code of the product.

If for any reason you wish to return goods purchased directly from us, we will provide a refund or exchange the item upon returning it to us. All we ask is that the products are either unused or at least 90% full.

Returns must be made within 60 days of purchase and be sent back to Deluxe Shop in good order.

Please note: to receive a full refund for a product/s delivered with a promotional free gift, both the item purchased and the free gift must be returned within 28 days of the purchase date.