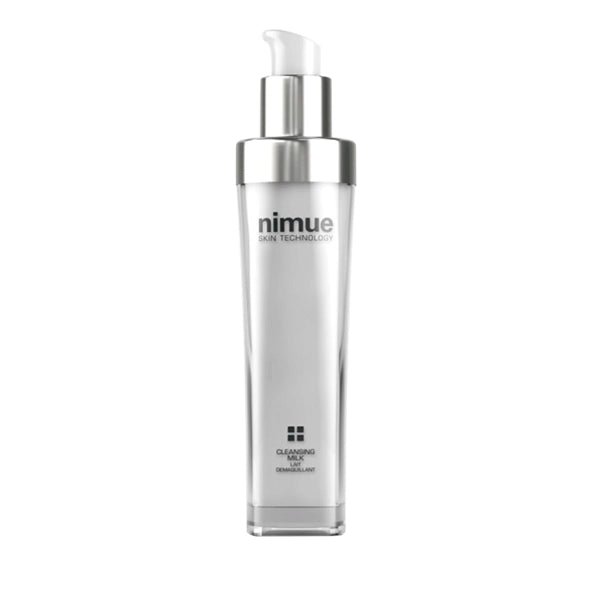 Nimue Cleansing Milk 140ml
FREE delivery on orders over R400, shipping for orders under R400 will be charged at R50 per shipment. Orders are delivered between 1-5 business days.
A luxurious and gentle formula that effortlessly purifies and nourishes your skin.
The Nimue Cleansing Milk is a must-have in your skincare routine. Significantly , it effectively removes impurities, excess oil, and makeup, leaving your skin feeling clean, refreshed, and balanced.
Formulated with a blend of nourishing ingredients, this cleansing milk helps to hydrate and soothe the skin, promoting a healthy and radiant complexion. So, it is suitable for all skin types, including sensitive skin.
Indulge in the silky texture of the Cleansing Milk as it glides smoothly over your skin, melting away makeup and impurities without stripping away its natural moisture. Henceforth, experience the gentle yet effective cleansing power.
How to apply
To use the Cleansing Milk, simply apply a small amount to damp skin and gently massage in circular motions. Rinse thoroughly with lukewarm water, and follow with your favourite toner and moisturiser.
Enhance your daily skincare routine with the Nimue Cleansing Milk and achieve clean, refreshed, and nourished skin. Experience the luxury of a spa-like cleansing experience in the comfort of your own home.
Lastly ,invest in your skin's health and beauty with the Nimue Cleansing Milk. Give your skin the pampering it deserves, and let it reveal its natural radiance, day after day.
Product benefits
Gentle and effective removal of make-up, pollutants and daily impurities.
Helps to maintain and stabilise the epidermal barrier of the skin
Soap and fragrance free
Lightly exfoliates the skin
Reduces trans epidermal water loss (TEWL)
Non comedogenic and hype-allergenic emulsion

Size: 140ml
Deluxe Shop offers FREE delivery on orders over R400, shipping for orders under R400 will be charged at R50 per shipment. Once an order is dispatched it may take between 1-5 working days for delivery. Orders are not always dispatched on the day of ordering. We will always aim for the quickest time possible - depending on the time of your order and the area you live in, some delays may occur. Some increased charges may occur for rural areas or on Game Farms, Mines, Farms etc. Peak periods such as Black Friday and Christmas may result in some delays.
No shipping costs apply to treatments/vouchers purchased.

Delivery Methods
In general orders are despatched on the day after they are received, however at busy times this may not be possible. Please therefore allow up to one week for delivery. Orders sent by courier need to be signed-for on delivery.

Claims for damage, packing errors or non-delivery of goods must be received by DeluxeShop within 14 days of placing your order. In the event that no such claim is received within the specified time period, the sale will be considered final and the goods deemed to be received in good working condition and as ordered.

Peak Periods
During very busy periods, like Black Friday and December holidays, alternate delivery times should be taken into consideration for all delivery options. We will keep you posted on the actual delivery time.

Returns Policy - Satisfaction Guaranteed!
Deluxe Shop trusts that you are satisfied with your purchases. We only stock brands that we know provide the greatest results and get raving reviews.

However, if for any reason you are not satisfied with your purchase, please contact sales@deluxeshop.co.za within 7 days with a detailed description of the query, including a photograph and the batch code of the product.

If for any reason you wish to return goods purchased directly from us, we will provide a refund or exchange the item upon returning it to us. All we ask is that the products are either unused or at least 90% full.

Returns must be made within 60 days of purchase and be sent back to Deluxe Shop in good order.

Please note: to receive a full refund for a product/s delivered with a promotional free gift, both the item purchased and the free gift must be returned within 28 days of the purchase date.