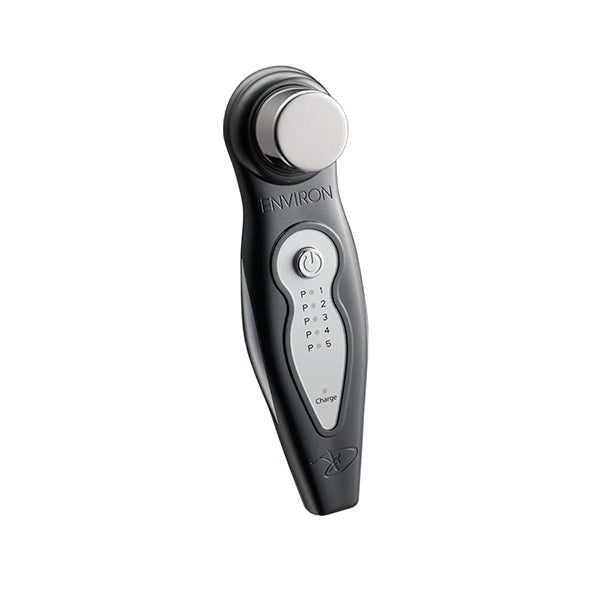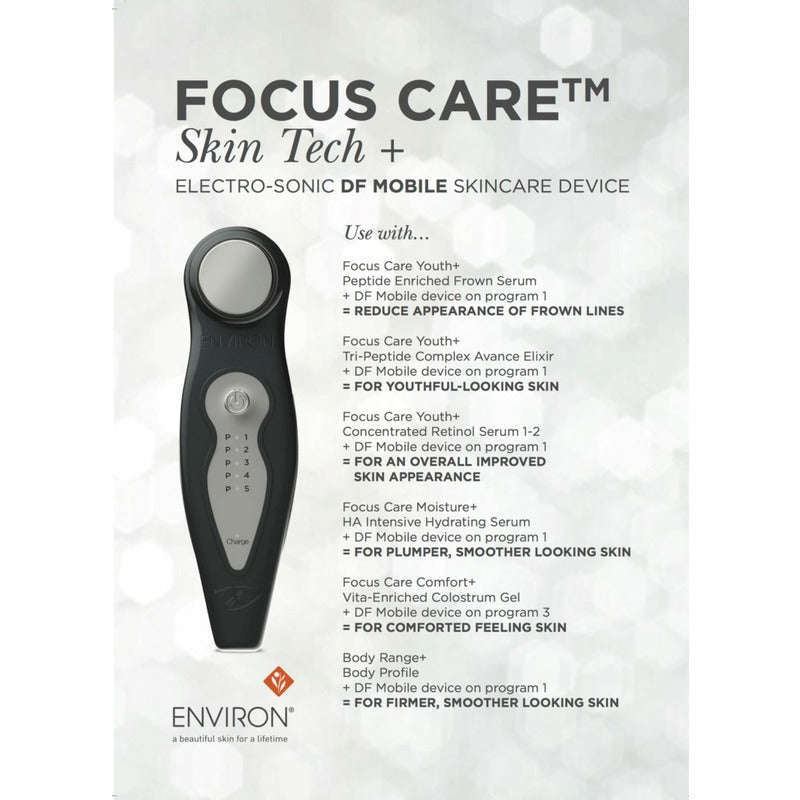 Environ Electro-Sonic DF Mobile Device
There are +5 units left in stock!
FREE delivery on orders over R400, shipping for orders under R400 will be charged at R50 per shipment. Orders are delivered between 1-5 business days.
This handheld device combines two sophisticated technologies, low frequency sonophoresis (sound waves) and pulsed iontophoresis (electric current) designed to be used with specific Environ products to help deliver more essential nutrients to where the skin needs them most, making a lasting difference to the appearance of your skin.
Benefits
Together with topical Environ products, this electro-sonic device helps to
Enhance the absorption and benefits of topical Environ products.
Improve the skin's overall health and wellbeing as well as its complexion, texture and radiance.
For more youthfully radiant-looking skin use the device with our Concentrated Retinol Serums
For an even better, younger-looking skin use the device with our Tri-Peptide Complex+ Avance Elixir.
To assist in the reduction of the appearance of frown lines and a smoother younger-looking skin use the device with our Peptide Enriched Frown Serum.
For beautifully hydrated and plump-looking skin use the device with our HA Intensive Hydrating Serum.
For more relieved and soothed-looking skin use the device with the Vita-Enriched Colostrum Gel.
To assist in the reduction of the appearance of a double-chin use the device with our Body Profile.
How to use
Pre-cleanse, cleanse and tone your skin with your preferred Environ products.
Dampen the conduction cloth and wrap it around the back of the device, ensuring that the cloth covers both metal panels and the palm of the hand makes contact with both panels. Cloth must be slightly damp, not wet.
Apply the selected Environ product to the area of concern. The skin must remain constantly moist during the application, reapplication of the product may be necessary.
press the ON/OFF button for one second to switch the DF Mobile ON. By default, the device switches on P1 (Programme 1) and the indicator light shines blue.
Place the flat part of the Treatment Head onto the selected area and wait for a beep sound to indicate the start of the treatment. Hold the device in a static position until the next beep sound is heard (15 seconds), before moving it slightly - always slightly overlapping the previous position.
Repeat this until the focus area has been covered.
Environ is a prescription range. All new purchases are followed with a free telephonic or video consultation with our Environ Skincare Specialist to advise on each products uses and benefits and assist with any protocols that need to be followed. This is to ensure you get the very best out of the brand and your skin. Environ items can only be shipped to new clients after a free online/telephonic consultation, to confirm that the correct product will be applied for your specific concern. If necessary we will exchange or refund the product after the consultation.
Deluxe Shop offers FREE delivery on orders over R400, shipping for orders under R400 will be charged at R50 per shipment. Once an order is dispatched it may take between 1-5 working days for delivery. Orders are not always dispatched on the day of ordering. We will always aim for the quickest time possible - depending on the time of your order and the area you live in, some delays may occur. Some increased charges may occur for rural areas or on Game Farms, Mines, Farms etc. Peak periods such as Black Friday and Christmas may result in some delays.
No shipping costs apply to treatments/vouchers purchased.

Delivery Methods
In general orders are despatched on the day after they are received, however at busy times this may not be possible. Please therefore allow up to one week for delivery. Orders sent by courier need to be signed-for on delivery.

Claims for damage, packing errors or non-delivery of goods must be received by DeluxeShop within 14 days of placing your order. In the event that no such claim is received within the specified time period, the sale will be considered final and the goods deemed to be received in good working condition and as ordered.

Peak Periods
During very busy periods, like Black Friday and December holidays, alternate delivery times should be taken into consideration for all delivery options. We will keep you posted on the actual delivery time.

Returns Policy - Satisfaction Guaranteed!
Deluxe Shop trusts that you are satisfied with your purchases. We only stock brands that we know provide the greatest results and get raving reviews.

However, if for any reason you are not satisfied with your purchase, please contact sales@deluxeshop.co.za within 7 days with a detailed description of the query, including a photograph and the batch code of the product.

If for any reason you wish to return goods purchased directly from us, we will provide a refund or exchange the item upon returning it to us. All we ask is that the products are either unused or at least 90% full.

Returns must be made within 60 days of purchase and be sent back to Deluxe Shop in good order.

Please note: to receive a full refund for a product/s delivered with a promotional free gift, both the item purchased and the free gift must be returned within 28 days of the purchase date.