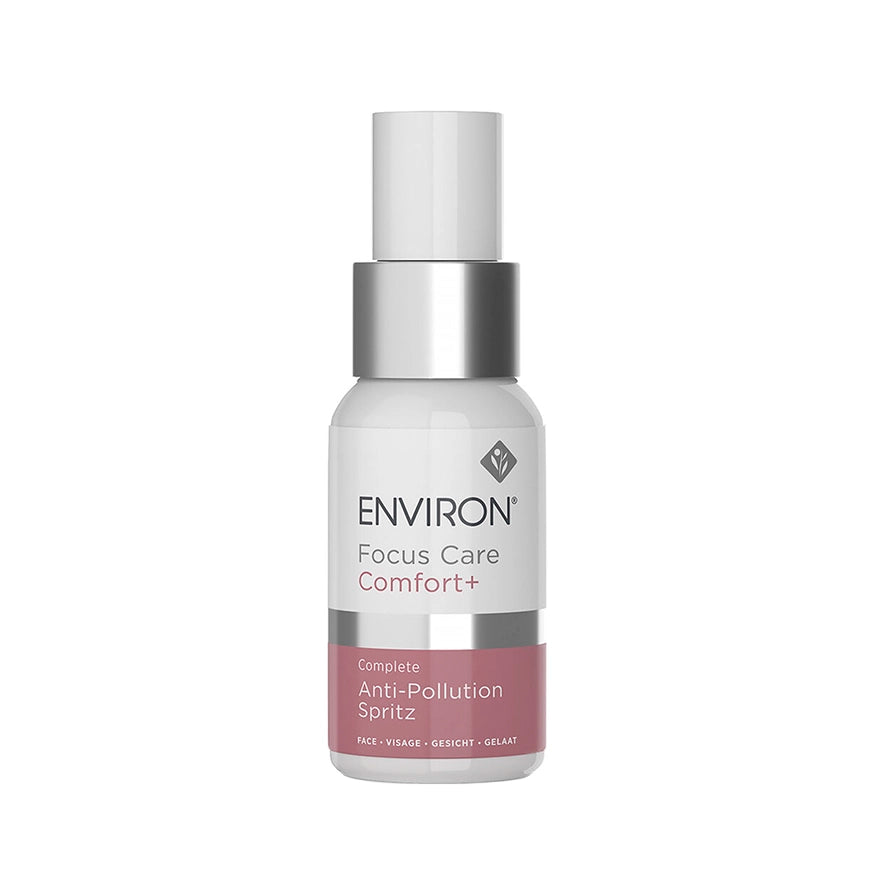 Environ Focus Care Comfort+ Purifying Anti-Pollution Spritz
FREE delivery on orders over R400, shipping for orders under R400 will be charged at R50 per shipment. Orders are delivered between 1-5 business days.
Anti Pollution Spritz is enriched with a variety of powerful ingredients that acts as an anti-pollution shield to protect the skin from external and internal stressors which could compromise skin health and wellbeing. This fragrance-free spritz leaves the skin feeling cool, protected and looking healthier. 
Anti Pollution Spritz may be used during the day when skin feels fragile and looks sensitive due to the harmful effects of free-radical damage (exposure to pollution, smoking, stress, temperature extremes etc.). It is especially suited for urbanised environments to assist in preventing oxidative stress.
KEY INGREDIENTS:
Ascorbyl Glucoside (vitamin C)
Water + Seawater + Glycerin + Laminaria Digitata Extract (Brown Algae) + Chlorella Vulgaris (Green Micro Algae) Extract + Saccharide Isomerate (Actibiome®
Water (and) Glycerin + Inula Helenium (Elecampane) Extract (IBR UrbioTect®)
Biosaccharide Gum-4 + 1,2-Hexanediol (Pollustop®)
Lepidium Sativum (Garden Cress) Sprout Extract + Glycerin + Lecithin (Detoxophane®)
Niacinamide (vitamin B3)
Topically applied antioxidants exert their benefits by offering protection from damaging free radicals and over-the-counter cosmetics incorporating antioxidants are among the most popular anti-aging products available. 
Inula Helenium is an herb, widely distributed throughout Europe and now the world where it was cultivated for centuries as a medicinal plant and a common remedy for sicknesses in the middle ages. IBR preparation is used for protecting from and deactivating pollution. Environmental pollutants are increasingly abundant in our urbanised and industrialised environments.
Pollustop® forms a non-occlusive film on the skin surface. It optimises the effectiveness and the matrix structure and improves texture. This product builds a protective barrier against 3 types of pollution: atmospheric pollution (carbon particles, particulate matter and heavy metals), UV, and urban pollution.
Detoxophane succeeds in enhancing the resistance of skin cells against environmental pollutants and intrinsic reactive molecules. It both cleanses off and protects our skin cells against dangerous molecules.
Niacinamide reduces the impact of environmental damage because of its ability to improve the skin's barrier (first line of defense), plus it also plays a role in helping skin to repair signs of past damage.
Benefits include:
Deactivating (chelation) of pollutants.
Supporting (pre-biotics) skin health.
Increasing ability to protect and repair against pollutants and the damage they cause.
Protecting from blue light (HEV).
These effects result in a beautiful, healthy-looking, balanced skin.
Directions: 
After pre-cleansing, cleansing and toning, apply your regular Environ vitamin A enriched moisturiser evenly to the face, neck and décolleté.
Follow with sunscreen and / or foundation.
Keeping the eyes closed, apply the spritz morning and/or evening or during the day as and when required, for extra protection and comfort.
Environ is a prescription range. All new purchases are followed with a free telephonic or video consultation with our Environ Skincare Specialist to advise on each products uses and benefits and assist with any protocols that need to be followed. This is to ensure you get the very best out of the brand and your skin. Environ items can only be shipped to new clients after a free online/telephonic consultation, to confirm that the correct product will be applied for your specific concern. If necessary we will exchange or refund the product after the consultation.

Deluxe Shop offers FREE delivery on orders over R400, shipping for orders under R400 will be charged at R50 per shipment. Once an order is dispatched it may take between 1-5 working days for delivery. Orders are not always dispatched on the day of ordering. We will always aim for the quickest time possible - depending on the time of your order and the area you live in, some delays may occur. Some increased charges may occur for rural areas or on Game Farms, Mines, Farms etc. Peak periods such as Black Friday and Christmas may result in some delays.
No shipping costs apply to treatments/vouchers purchased.

Delivery Methods
In general orders are despatched on the day after they are received, however at busy times this may not be possible. Please therefore allow up to one week for delivery. Orders sent by courier need to be signed-for on delivery.

Claims for damage, packing errors or non-delivery of goods must be received by DeluxeShop within 14 days of placing your order. In the event that no such claim is received within the specified time period, the sale will be considered final and the goods deemed to be received in good working condition and as ordered.

Peak Periods
During very busy periods, like Black Friday and December holidays, alternate delivery times should be taken into consideration for all delivery options. We will keep you posted on the actual delivery time.

Returns Policy - Satisfaction Guaranteed!
Deluxe Shop trusts that you are satisfied with your purchases. We only stock brands that we know provide the greatest results and get raving reviews.

However, if for any reason you are not satisfied with your purchase, please contact sales@deluxeshop.co.za within 7 days with a detailed description of the query, including a photograph and the batch code of the product.

If for any reason you wish to return goods purchased directly from us, we will provide a refund or exchange the item upon returning it to us. All we ask is that the products are either unused or at least 90% full.

Returns must be made within 60 days of purchase and be sent back to Deluxe Shop in good order.

Please note: to receive a full refund for a product/s delivered with a promotional free gift, both the item purchased and the free gift must be returned within 28 days of the purchase date.